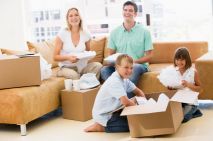 15 December 2009
4 Tips in Moving to UK



Moving to a new country is not stress-free. There are a lot of things to worry about. These include a new job, a new place to stay, a new doctor and dentist, a new bank, and a new community to live in. Moving to the United Kingdom is nothing different. It may be really arduous for those unprepared. Here is a guide that will help you in moving to the UK.

1. Choose which part of UK you're moving to.

The United Kingdom is comprised of England, Northern Ireland, Scotland, and Wales. Before choosing which part of the UK you are going to move to, you have to consider the following: availability of jobs, cost of living, housing and rental fees, and the weather.

2. Budget your money.

Even if you are going to immediately work after moving, you should have enough money for initial expenses. You need money to cover the rent and other bills for the first few months, food, and of course the removal fees.

3. Have the proper immigration documents ready.

Unless you are a European Union citisen, you need entry clearance in order to enter and live in the UK. The visas available are highly skilled immigrant visa, work visa, working holidaymakers, student, visitors, and marriage visas. Choose the appropriate visa given your circumstances.

4. Secure employment before moving to the UK.

Unless you've got a work offer from a UK-based company, it is prudent to find a job beforehand. There are online job searching services that you can use. Getting employed in the UK is dependent on the availability of jobs for your field of expertise.